Grow Your Freelance Web Design and Development Business with FREE Automated Referrals
Referrals are crucial to building a successful freelance business.
Customer referrals and word of mouth were reported as the most effective sales and marketing techniques for small business owners in a recent Infusionsoft survey (62%).
Emailing (34%), networking (25%), and social media (23%) followed far behind.
The research also found that freelancers and small business owners want more information about how to attract more customers to their business (66%), how to get their customers to refer their friends (55%), and how to get repeat business (44%).
You can find the full report from Infusionsoft HERE.
In the meantime, learn 3 simple steps for how to get referrals with free, automated systems. Once you set them up, they will grow your freelance web design and web development business on their own… even while you sleep.
STEP #1: Get Social Media Share Button Code Snippet
How to get referrals using social media can be easy.
A single social media code snippet can be used over and over again to generate lots of automatic referrals (more in Step #2).
But first, you need to create a snippet of code to generate those sharing buttons.
Here is an example of how to get such code from AddThis, a marketing and social media platform.
Set up a free account with AddThis if you do not already have one.
Once you have an account, create a profile that will generate share buttons. Use the "Add Profile" menu option in the upper left of the screen.
For this profile, go to "Tools" and select the "Newsletter Sharing Buttons" option. After clicking this option, your settings options include:
Page URL to Share → This is the landing page URL you want referral traffic to see
Page Title → This is the custom message for the referral share link
Button Size → This setting controls the button appearance as large or small
Services → This setting determines which social media buttons are shown
Below those setting options is a box titled "Get the Code." This box contains the code snippet to copy and paste into your client communications.
Here is what the form looks like: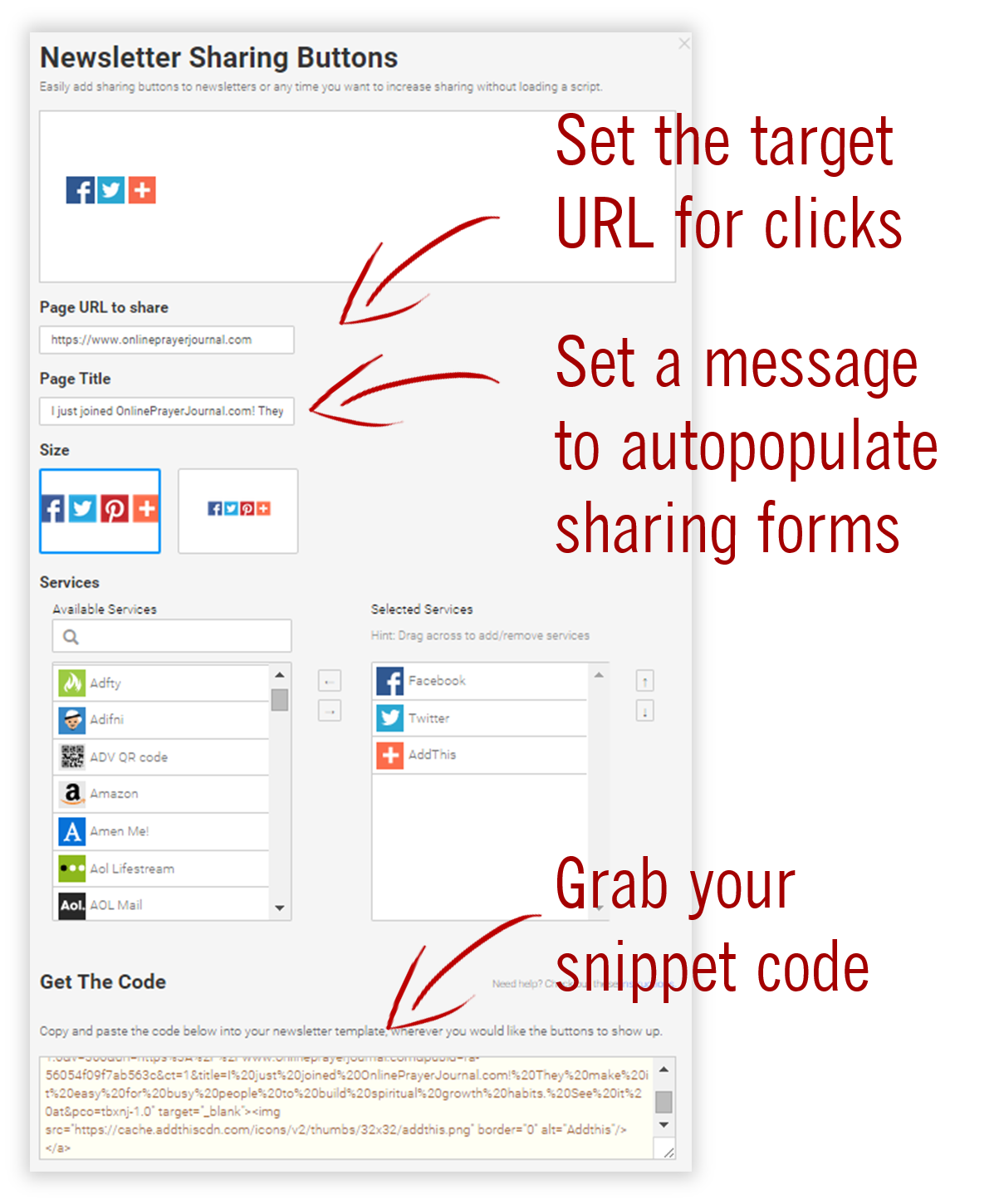 Once you have this code snippet (or one of your own that generates sharing buttons), you can move on to Step #2.
STEP #2: Strategic Use of Social Sharing for Referrals
Now you are ready to put the reach and power of your clients' social networks in your own hands.
You can get in front of new people who need your services, including those your client doesn't even realize could use your help.
Any given client has hundreds of connections across multiple social media networks…
…and you can leverage that power to grow your freelancing web design and development business over and over again, automatically.
Make sure you are strategic about: 1) when to ask for referrals, and 2) how to ask for referrals.
There are logical times to ask for referrals.
Opportunities to place sharing buttons on routine client communications are often overlooked. Pair these buttons with a request for a referral, and they create powerful systems for generating new business.
Specifically, freelancers can add referral sharing buttons to the following:
Welcome messages / Email campaigns
Customer receipts
Thank you messages
Asking for referrals when everyone is excited – like at the beginning and end of a successful project – encourages positive referrals.
You want to consider how happy the customer is with your service. Their level of satisfaction determines how likely they are to provide great referrals.
Always remember that even when things go wrong with clients, there are things you can do to improve their mood. For example, you can offer apologies instead of excuses, discounts, bonus services, etc.
Sure, these methods may take a toll on your business short-term. But a happy customer almost always becomes a favorable asset. These clients tend to help you win new business through referrals, and they tend to become repeat customers themselves.
Welcome Messages / Email Campaigns
Placing sharing buttons on welcome messages and email campaigns can be quite powerful for several reasons.
The primary reason is these tend to be messages clients save. They may include important logon details or links to valuable information from your newsletter.
As such, your referral share buttons also stay in their Inbox. They remain ready for use to refer new customers to your business.
Below is an example from a membership site welcome message. It asks the new customer to share the membership site with his or her own social network(s).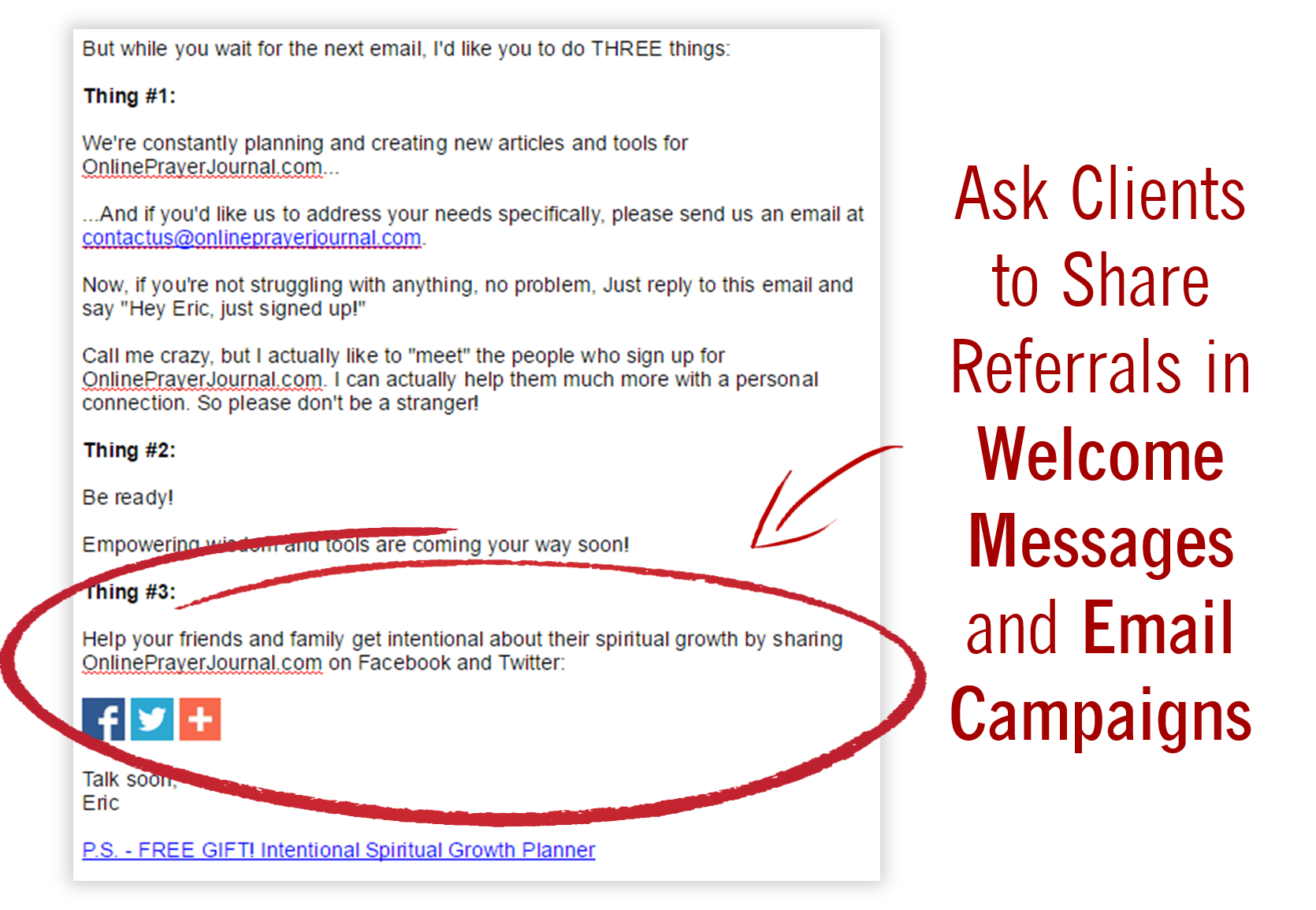 Customer Receipts
Customer receipts can be another great location to place referral sharing buttons.
Receipts tend to be email documents that customers like to hold on to. Most business owners want those copies as records of where they have spent their money. They may keep them for tax records for a long time.
In addition, you should have a happy customer by the time you are sending a receipt. Their project is complete, is fully paid for, and has your quality stamp of approval.
As a result, this is usually an ideal time ask for a referral. You are making it easy for them to express their satisfaction with your service  and do something in return for you.
Here is an example of what this might look like on a receipt:
To make your sharing referrals even more compelling, you can pre-populate the user's share message with one you desire.
For example, once your client clicks to tweet a referral, the message would pop up as follows: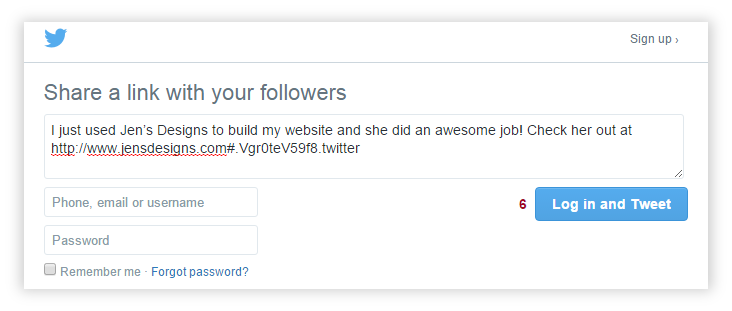 Thank You Messages
Finally, you can add your referral sharing buttons to courtesy thank you messages.
Thank you messages can be a fantastic way to leave a lasting impression with your client after your project is complete.
They provide an opportunity to stand out from your competition as many freelancers do not take the time send them.
In addition, they provide another document in a client's Inbox that can work for your business in several ways. First, you can direct them to reach back out to you for any future work. Second, you can ask for referrals and provide an easy way to do it.
Here is an illustration of what this would look like: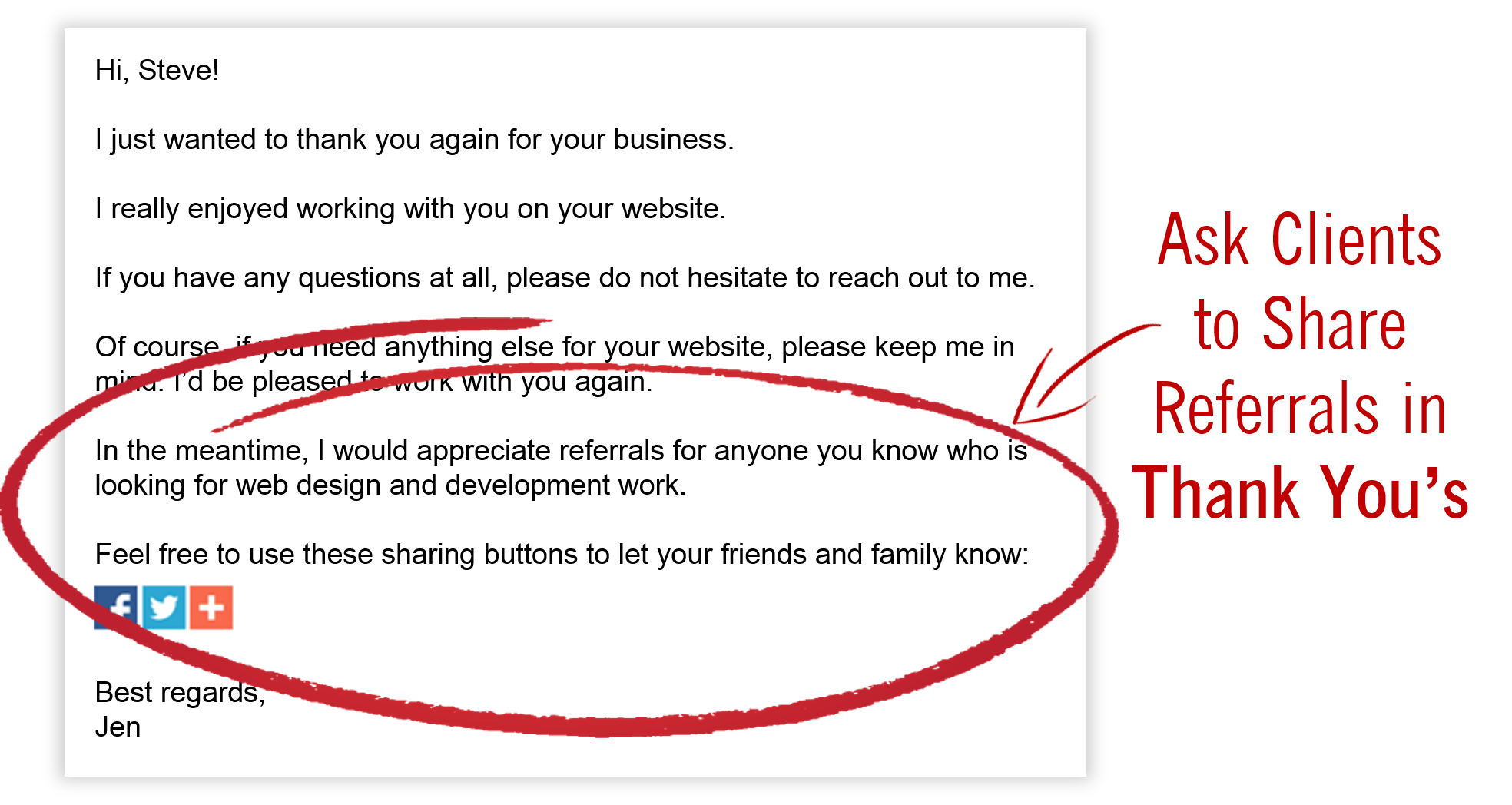 Now that you have several methods for automating referrals at the beginning and end of a project, let's consider how to automate repeat business.
STEP#3: Schedule Automated Check-In's With Your Customers
It is well-known that getting new business from prior customers is easier than earning brand new business.
Freelancers can take advantage of this fact by setting up automated systems that leverage their existing customer base.
Merely checking in with former clients is an effective way to grow any business. Even so, many freelancers don't reach out. They are often unsure how to start a new conversation well after their project was completed.
The truth is there are lots of great reasons to check in with former clients. Here are a few examples:
Find out how well their business has been impacted by your project work
Determine if any bugs have popped up since the project was completed
Find out if they have ideas for new features based on revelations after your project went live
Once you know the why of reaching out, you can focus on the how.
The great news is that you can automate check-in's with a few simple systems. Here are a couple of examples:
Calendar reminders
You can set up simple calendar reminders in recurrent intervals after a project is complete. For example, you might put a quarterly check in with all your clients for at least 1 year after your project is completed.
Putting these notices on the calendar makes sure you don't forget. Your clients will appreciate that you are still thinking about them and their business needs months later.
Email newsletter campaigns
You can set up email newsletter campaigns to keep in touch with former clients.
You may already publish a running newsletter with valuable information for your subscriber list. In this case, you can simply add your clients to this list so your brand remains top-of-mind for them.
Separately, you may want to create a special list for those customers for whom you have completed project work. Create a special campaign for these former customers with specific language about checking in with the evolution of their project needs. You can get clearly notify them you are standing by and ready to assist them with any near- and long-term future needs.
Both of these automated systems – calendar reminders and email newsletter campaigns – are free and take minimal time to set up. Even so, they will make you stay in touch with former clients in a way that yields repeat business.
Summary – How to Get Referrals Through Automated Systems
There is no doubt that referrals are critical and highly desirable. They are fundamental for helping freelance web designers and web developers grow their business.
You can create a few free, automated systems to 1) make it easy for your clients to refer to you and 2) make it easy for you to stay in touch with them. These systems provide a strong foundation for growing your referral network… and your business.
Here is a simple 3-step process for how to get referrals with 5 free, automated systems for your freelance web design and web development business:
#1: Get sharing button code snippet (i.e., AddThis or other)
#2: Place code snippet and call to action for referrals on your customer outreach
Welcome messages / email campaigns
Receipts
Thank you messages
#3: Automate outreach to your former clients
Use calendar notices to "check-in"
Use automated email campaigns tailored to former clients → provide valuable information for their business (e.g., newsletters)
These systems alone can do a lot of the referral work for you while you concentrate on making your projects happen.
If you know any freelancers who would also benefit from setting up the free, automated referral systems in this article, please share it on your social networks: